CAMBRIDGE INVESTMENT RESEARCH INC.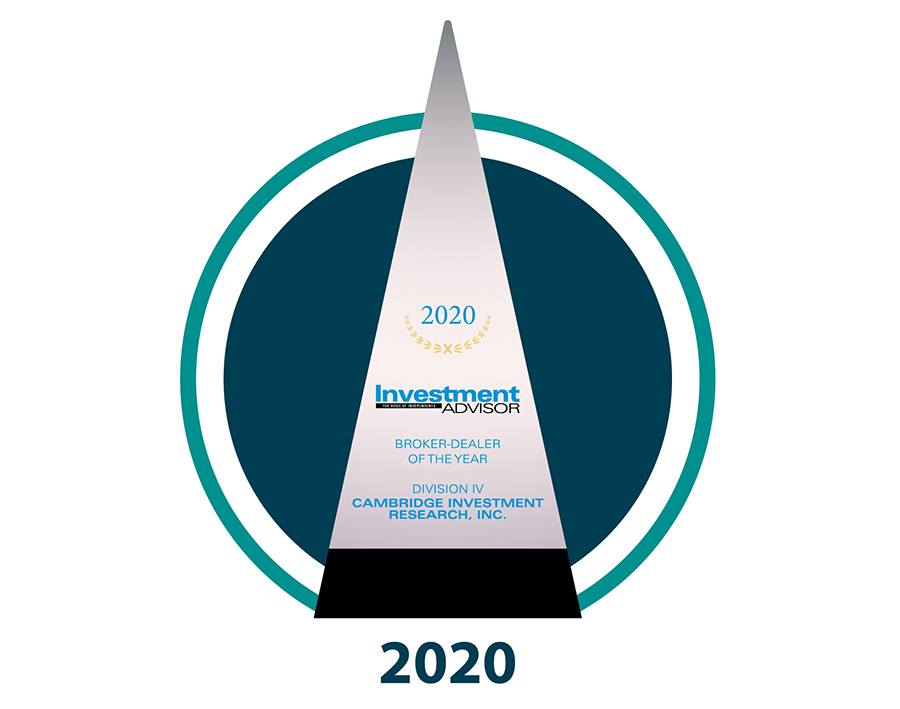 Cambridge is the only broker-dealer to receive the Broker-Dealer of the Year award 13 times, previously being recognized in 2020, 2019, 2018, 2017, 2016, 2015, 2014, 2013, 2012, 2010, 2008, 2007, Division IV; 2003 Division III, making it the winningest firm in the award's history.
What is an independent broker-dealer?
There are many different types of firms for your financial professional to consider in choosing a broker-dealer. You may be familiar with broker-dealers that are subsidiaries of conglomerates such as commercial banks, investment banks, and investment companies. An independent broker-dealer is different from such firms because they generally do not underwrite securities, they do not create research, and they do not engage in investment banking.
What is an independent financial professional?
Objective advice on achieving your financial goals may be best delivered by an independent financial professional. Your independent financial professional is not an employee of an investment or financial services firm – they are an independent business owner. They have the freedom to structure their business in a manner that best serves their clients. Your independent financial professional utilizes a broker-dealer who provides services that include processing investment business, marketing assistance, practice management, and education. In addition, a broker-dealer holds responsibility for regulatory compliance and adherence to securities laws.
Why is independence important?
Just as you have the opportunity to choose your financial professional, they in turn choose their independent broker-dealer. We are honored that your financial professional has chosen Cambridge Investment Research, Inc. (Cambridge) as their independent broker-dealer. We believe their choice serves your best interests because we are independently owned and your financial professional has the freedom to offer you objective guidance. This means we do not force them to sell proprietary products or meet any sales quotas. Therefore, your financial professional is not pressured or distracted by corporate interests and can focus on what is best for you and your financial goals.
At Cambridge, we believe in the entrepreneurial spirit of your financial professional. Instead of asking our financial professionals to fit into a mold of how we think they should do business, we empower them with a vast menu of compliance-friendly programs, products, and services. This enables your financial professional to customize an investment strategy designed to meet your unique long-term financial needs.
To Best Serve Our Clients, We Are Limiting
The Number of New Clients Each Month
Get Started TODAY To Ensure Availability!
For your convenience we offer appointment online scheduling 24 hours a day.
1'Investment Advisor magazine, 2019, 2018, 2017, 2016, 2015, 2014, 2013, 2012, 2010, 2008, 2007, Division IV; 2003, Division III. A broker-dealer becomes eligible for this honor only after a minimum of 10% of its producing advisors cast valid ballots. The ballots rate the broker-dealer in 15 different categories defined by Investment Advisor as relevant challenges and concerns. Broker-dealers receiving the highest marks in each of four divisions are declared Broker-Dealer of the Year. Results are based on experiences and perceptions of participants surveyed in June of each of the years listed. Experience may vary. This recognition is not representative of investment performance or returns of advisors. Visit thinkadvisor.com.'